Border Butcher
So, why should you buy from Foreman`s rather than your local supermarket?

In one word, Quality. Here in the Border country, where the farming industry is still the mainstay of our economy, people are very close to the source of production and so know the difference between a quality product and something which has been designed to appeal to the broadest possible market.

It`s a sad fact, but too many people today are simply unaware of what they`re missing, and if, by chance, they do taste a piece of well-hung beef or pork from one of the traditional breeds they`re astonished by the difference in flavour and texture.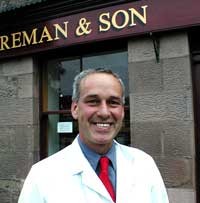 It`s easy enough to understand why supermarkets have to aim for low prices - they have to cater for people who fill their shopping trolleys with crisps and convenience foods - but we`re more interested in customers who care more about the fundamentals, putting food quality first and foremost.

Let`s face it, if you`re going to spend hours preparing a meal, it makes sense to start with the best ingredients.

To fully appreciate the quality of our products, you`ll have to try them, but visitors to our shops can see the difference then and there. Where supermarket beef is a bright red, ours is a dull brown - not so attractive perhaps to the inexperienced eye - but a sign that the beef has been hung long enough to mature, and making a huge difference in terms of taste and texture.

Our family business has relationships with local farms which in some cases go back several generations, but we`re also always on the lookout for new sources of quality products - whether it`s wild boar from Yorkshire or farmhouse cheeses made up the road in Glendale.

My suppliers are people I know and trust, which makes me confident that the food I sell my customers will keep them coming back to me.

David Foreman