Cheeses
Special English Cheeses
Mrs Bell`s Blue
This Ewesmilk cheese has blue veins running through it. The sappy texture and unmistakable ewesmilk taste make this a very special cheese (winner of the gold medal at the 1998 at the British National Cheese Festival).
Lancashire Crumbly
As the name suggests, a dry crumbly cheese with a mild taste. Made from cows milk to a traditional farmhouse recipe.
White Stilton and Apricot
A great combination. The dryness of the cheese works well with the sappiness of the apricots. Great to eat on its own.
Stilton
This cheese is very well matured, giving it a very sappy texture and intense flavour.
Swaledale with Herbs & Garlic
Made by the Swaledale Cheese Company. A light moist cheese. The herbs and garlic give needed flavour without taking the delicate flavour away from the cheese.
Caron Lodge Mature Cheddar
Wonderful intense flavour. Comes wrapped in its orginal muslin cloth. Made from pasteurised cowsmilk at Caron Lodge Dairy, Yorkshire.
Isle of Mull
An English cheese, but made North of the Border, this comes in a black waxed casing. It has a light heathery taste mixed in with the distinct characteristics of a good West Coast cheese.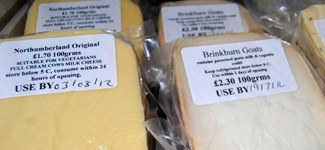 The following range of cheeses are produced by the Northumberland Cheese Company of Blagdon, and those of local cheese specialist Margret Ann Maxwell of Doddington Farm, Wooler.

Northumberland Cheese Company of Blagdon
Northumberland with Chives. Full fat hard cows milk cheese with a good even mix of freshly cut chives supplied locally. Light delicate flavours with the chives giving that extra bit of punch to the overall taste.

Northumberland with Garlic. Full fat hard cows milk cheese with garlic.

Northumberland with Nettles. Made from the original cheese recipe with fresh nettles added during the mixing period. This has a light delicate flavour enhanced by the fresh nettles, giving a light herb taste and an attractive speckled finish.

Northumberland Smoked. The original Northumberland Cheese recipe, smoked for three days and then left to mature for a further 14 days before being packaged ready for sale.

Northumberland Original. Smooth creamy texture, rindless and quite moist with supple fruit flavours.

Northumberland Reiver. A rich golden cheese with a hard, crumbly crust, made from cows milk and matured for three months. A medium-to-strong cheese giving lovely aftertaste.

Coquetdale Cheese. Rich and buttery, delicious, clean, long, fruity finish. Has a good crust and gives a great aroma.

Redesdale Sheep`s Cheese. The unmistakable taste of a good ewesmilk cheese, matured over a five month period. This has rich full flavours with a scented aftertaste common to all ewesmilk cheese.

Elsdon Goat Cheese. Full and rich, yet light, creamy smooth texture. You really know you`re eating a quality goats cheese - ideal accompaniment to a nice dry white wine.
Margret Ann Maxwell of Doddington Farm, Wooler
Berwick Edge. Named after the ridge which looks across the valley to Wooler, this is an unpasteurised cows milk cheese with good rich flavour and lots of aftertaste. The cheese is usually nine months old and well-matured, ready to eat.

Cuddy`s Cave. Named after the cave where St Cuthbert stayed on his pilgrimmage to Holy Island from Islay, this unpasteurised cows milk cheese has a creamier texture and slightly sweeter taste than Berwick Edge cheese. It is normally matured over seven or eight months and has its own skin which is formed using a starter culture.

Doddington. Named after the farm where it is made, this is the original article. Like Berwick Edge and Cuddy`s Cave, it is an unpasteurised cows milk cheese. This is a strong, powerful Cheddar, ideal with a good port after a meal. It is matured over nine months and has a red skin formed using a starter culture.
Wensleydale Cheeses
Original Farmhouse
A rich, full-bodied cheese. Slightly crumbly and made from an original farmhouse kitchen recipe. Ideal mature cheese to use for cooking or baking.
Wensleydale with Blueberries
A crumbly Wensleydale texture, impregnated with blueberries which give the cheese a very deep orange colour, and instil a slight yoghurty taste to the cheese.
Wensleydale with Fruit & Nut
Great sappy texture, loads of different flavours in every bite. Has been associated with a good traditional fruit cake.
Wensleydale with Cranberries
That crumbly Wensleydale texture, impregnated with whole cranberries. Subtle, light berry flavours - a great after-dinner treat.
Blue Wensleydale
Similar to a ripe Stilton, but with a slightly milder and more rounded taste. Delicious with a good Port.
Smoked Blue Wensleydale
A rich powerful cheese. Produced in 1 kg rounds. This cheese has a supple crumbly moist texture and is normally eaten in small quantities.
Imported Cheeses
Danish Blue
From Denmark`s southern border area. Very moist full-bodied flavour - a classic.
Cambazola (German)
German full-veined soft cheese. Mild flavours, soft skin.
Brei
50% fat Chateau de Fonslacolombe. Ready for eating and will soften nicely when left at room temperature.
Vignotte
Firm crumbly traditional French cheese with a mature taste. A good accompaniment to a Ploughman`s.
Roule
Garlic and Herb coated soft cheese roll. Very moist. One of the most popular imported cheeses.