Fine Wines
Fine Wines from Foreman`s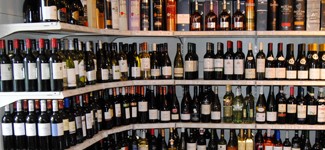 The old deep cellar in which Chile`s Concha y Toro aged its finest wines was named in the late nineteenth century "Casillero del Diablo" - Cellar of the Devil. The name is derived from a rumour that the wine was stored in cellars which housed the devil himself - this to discourage field hands from sampling the inventory of Special Reserve wines!

Chateau Marchesini Chianti 1998
A premier Cotes de Blaye, quality traditional presentation, drinking beautifully now and through to the year 2000. With lots of cabernet fruit and soft tannins.

Tappery Nook Cape Red
Full of character, this fruity, medium bodied wine has an easy-drinking style with a soft finish.

Tappery Nook Pinotage 1997
Pinotage is almost exclusive to South Africa, and when grown in the fertile vineyards of Worcester region, produces a deep ruby wine with superb fruitiness, delicious with red meats and cheese.

Corbieres (Les Deux Rives) 1997/98
Warmly spicy and rich, with soft, velvety mouthfeel, this is a most appealing red, with a lively peppery finish.