Wild Boar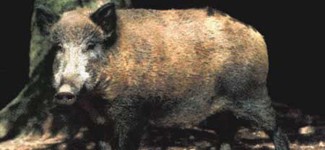 Why not try our 100% Free-range wild boar meat and sausages? Wild boar is a high-quality alternative meat which is delicious, healthy and unique. It will add a gourmet touch to any menu. We source this meat from Woodhouse Farm in Yorkshire, where wild boar are raised in a natural environment in a ten-acre wood. The wood is divided into fenced grass paddocks where the animals are free to forage for acorns, roots, berries, grasses, maize and grain.

Without chemicals and growth promoters, they have a natural and relatively slow growth rate which produces lean but tender meat. Wild boar meat is lean, dark and low in cholesterol levels. It has a mild but distinctive flavour which cannot be compared to any other meat.

All meat is professionally slaughtered and inspected at a local abattoir.
Try our special Wild Boar Sausages!
They are a mixture of:
- 80% Wild boar`s meat
- 2% Fresh coriander
- 3% Salt
- 1% Black Pepper
- 10% Bread Rusk
- 4% Water.
Made into natural skins. See our other delicious sausage recipes.

Caution!
Please note that all Wild Boar joints and chops have a good fat covering.